You have probably heard of the popular training platform which offers a wide variety of fitness programs from the top names in the industry.  BodyBuilding All Access has a little something for everyone.  A lot of people come up with excuses not to work out, so in this article, I will give you seven reasons to try this training program.
#1 Free trial
BodyBuilding All Access offers a 7-day free trial so you can check out the training programs for yourself. Seven days gives you some time to browse through the different workout categories, see all of the fitness plans offered, and take them for a test drive.
Included with an All Access membership is training from some of the biggest names in the fitness industry.  You are sure to find a program that is right up your alley.
Try All Access Free For 7 days
I encourage you to take the 7-day trial to peruse through the training and see for yourself.  There are 60+ training programs for all fitness levels, and you can cancel anytime.  You really have nothing to lose with the BodyBuilding All Access free trial.
#2 BodyBuilding All Access has something for everyone
Yes, there are a lot of training programs available within the All Access platform.  Whether you are just getting started or you are a gym rat, there is something for everyone. With over 60 fitness plans, I am sure you will find a plan that works for you.
You can browse plans from categories such as:
Beginner – Classes like "Total Fitness" and "20 Minute Fit"
Intermediate – "Total Body Strong" and "Modern Physique"
Advanced – Including "30-day Arms" and "30-day Back."
Muscle Building, Weight Loss, Gain Strength, Get Fit, Performance
Most Popular – See which programs other All Access members are doing
Newest – The latest and greatest programs on the All Access platform
You can also search for programs offered by a specific trainer if there is someone you want to learn from
New content is added regularly, and you can receive email notifications when new programs are available.  Also, good to know is that each workout plan comes with videos, nutrition advice, and supplement guides.
#3 You hate going to the gym
Yep, many people fall into this category, and I totally get it.  Going to the gym is time-consuming, and it takes effort.  Half the battle is just getting there.
I know the feeling, you get home from a long day of work and sometimes the last thing you want to do is pack up and head out of the house again. You get to the gym, and it's usually packed with people in the same boat as you.
BodyBuilding All Access makes it easy to work out from anywhere you want to, at home or at the gym.  With the All Access app, you have workout videos at your fingertips wherever you happen to be.
If you have some basic workout equipment, you can get in some excellent training in the comfort of your own home, so you don't even have to mess with going to the gym.
#4 Add variety to your workout
To a certain extent, we all get complacent when it comes to working out.  It is very easy to get in a rut and just do the same thing over and over again.  BodyBuilding.com All Access provides you with over 60 workout programs, so if you are getting bored with your current routine or you want to change things up, there are a lot of options available.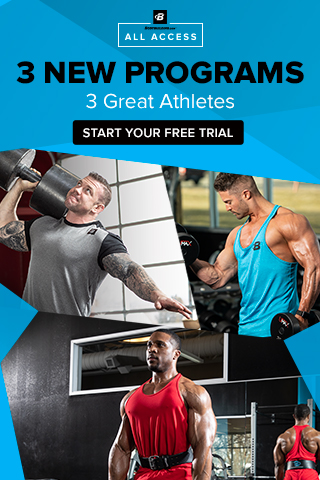 Adding variety to your workout can help you get through a plateau, or help you work on a different fitness area.  For instance, maybe you lift weights at the gym and want to do something different.  You could take a class from one of the top trainers at All Access and work on cardio and strength training for a change of pace.
#5 You need motivation
I have great intentions, and I am sure you do too, but sometimes intentions just don't cut it.  Sometimes we need a little (okay maybe a big) kick in the butt to get started.  If you need some motivation to start working out or get back in shape, BodyBuilding.com All Access coaches will help you.
The programs are set up for you; there is not a whole lot of thinking involved; all you have to do is work out.  I know it sounds so easy, right?  The trainers will keep you engaged through the training session and give you more than enough motivation in the process.  If you lack the motivation to workout, check out the free 7-day trial, and see for yourself. You can try out different programs and trainers and see what fits you the best.
#6 You need help getting started
Whether it's your first time or your first time in a long time, getting started can be daunting.  That is one of the great aspects of Bodybuilding All Access; they take all of the thinking out of it.  With so many workout programs to choose from, getting started is easy.
You can start with the beginner level programs if you want, and work your way up from there.  Maybe there is a particular trainer you are interested in. Or perhaps you want to start with a category, like losing weight or building muscle.
Getting started is the easy part with BodyBuilding All Access.
#7 You are not meeting your fitness goals
You go to the gym and workout a lot but are not achieving your fitness goals.  What do you do next?  Well, you can hire a trainer at the gym and see if they can help.  The problem with that is it gets so expensive.
Or you can try the workout programs offered through BodyBuilding.com All Access and workout with world-class trainers anywhere, anytime.  The programs with All Access include nutrition advice as well as workout videos.  A big part of reaching goals comes down to having a plan of action, which includes exercise and nutrition, and All Access has you covered.
Conclusion
BodyBuilding All Access has a ton of content and is excellent for people at all fitness levels. If you need help getting started, it's a great place to help you get going.
If you are not currently meeting your fitness goals, check out All Access, and see how these workout plans can help.  All Access is a great platform to help you achieve your goals.
I encourage you to give BodyBuilding.com All Access a look.  You can try the 7-day free trial offer, and you have nothing to lose. You can check out my complete review of All Access.
Try All Access Free For 7 days
If you have any questions or comments, please leave them below, and I will get back to you as soon as I can.  I look forward to hearing about and seeing your progress with BodyBuilding All Access.