Is HealthyWage a scam?
That's the first thing I thought when I heard about HealthyWage. In this review, I will walk you through this weight loss challenge and help you decide if HealthyWage is too good to be true. Can you really get paid to lose weight? Please keep reading; let's find out if HealthyWage is a scam or not.
Product/Company: HealthyWage
Rating: 95 out of 100
URL: HealthyWage
Recommended: Yes
Summary: HealthyWage offers a way to bet on yourself and place a wager (HealthyWager) on your own weight loss. They offer other challenges as well to help you become healthier.
Many people want to diet for a variety of different reasons.  Maybe you are trying to get ready for vacation and want to look great in that swimsuit.  Maybe your doctor told you that you need to lose weight for health reasons.
No matter the reason, weight loss is hard and can be a real struggle for a lot of people.   There are so many diet plans out there, and it can be complicated to know where to start and what actually works.  In our fast-paced world, eating healthy has become challenging.  People are going so many different directions all the time, and that can make losing weight even more difficult.
Everyone is so busy these days, work, kids, oh all the things!  It takes motivation, initiative, and a plan of action to actually lose weight.  Plus it's really easy just to put it off and avoid it. People also need to hold themselves accountable, and that is not always easy.  There has got to be a better way, right?
What is HealthyWage?               
Let's talk about that motivation I just mentioned, what do you think about getting paid to lose weight?  Wait what?  Did you just say get paid to lose weight?  Well, that is what HealthyWage is all about, helping people lose weight with cold hard cash.  Founded in 2009, HealthyWage has paid a lot of people.
Money is an excellent motivator for a lot of things in life, so why should weight loss be any different.  There is actually some science to back this up.  This study published by the Journal of American Medicine showed that people with a financial incentive to lose weight were almost five times more likely to do so than those without an incentive.
The study divided dieters into groups, one with no financial incentive and one with a double-incentive, a bet on their own weight loss. Dieters bet up to $336. If the incentivized dieters did not meet their weight loss goal, they lost their bet (negative incentive), and their money. But if they won their weight loss bet, they would win up to three times what they wagered (positive incentive).
Spoiler alert, the dieters that were in the incentivized group lost more weight and were more likely to meet their goal.  HealthyWage is built on the fact that people are more likely to succeed if you have something to lose when you fail and something to gain if you succeed.
A Mayo Clinic study from 2013 again broke people up into two groups, one group was incentivized to lose weight, and one was not.  Both groups received reminders, tips, etc. and at the end of the day, 62% of folks in the incentivized group lost weight, compared to 26% in the non-incentivized group.  Money is a great motivator.
How does HealthyWage work?
It's pretty easy really; you make a weight loss bet, or HealthyWager as it's called.  HealthyWage has a calculator available on its website.  You choose the amount of weight you want to lose, how long it will take you, and how much you want to bet per month.
So if you want to lose 15 pounds in 4 months and want to bet $50 per month on yourself, you will be given a prize range.  You can change any of these variables, and your prize range will adjust accordingly.
Once you have the prize range nailed down, you will walk through a series of questions, including your gender, current weight, height, waist size, etc.  Then at the end of this quiz, HealthyWage will ask you to create a password, and they will email you the exact prize you can win, based on your answers.
Here is a very simple recap:
Calculate your prize
Make your bet
Lose the weight
Get paid
Bet on yourself
You can win up to $10,000 betting on your own weight loss by setting a weight loss goal and a wager.  You are literally betting on yourself and your weight loss. As you can see from some of the research studies, money is a great way to motivate people to lose weight.
Ways to get paid 
Build your own weight loss challenge
This is a really cool idea; you can build your own challenge.  Build a challenge for your family or your community.  If you own a small business, you can create a challenge for your employees.
You can set up a challenge at no cost, and people will pay an entry fee that is added to the pot (less 25% admin fee).  Participants that achieve 6% weight loss split the pot.
Individual weight loss bet
We touched on this earlier, you make a bet on your own weight loss goal, and you can win up to $10,000.
Various Personal Jackpots
With a Personal Jackpot, you join a weight loss challenge and put money into the pot with other people.  Winners, who achieve 6% weight loss, split the pot.  There are various Personal Jackpots, that start on different dates with different entry fees, so the choice is yours.
As a participant in a Step Challenge, you put money into a pot for a set number of months.  Example, you contribute $30/month for two months.  If you meet or beat your step goal, the winners will split the pot.  This is a great way to help meet your weight loss goal as well.
In a Team Challenge, the team that loses the highest percentage of weight wins the challenge. An example is a $10,000 Team Challenge.
As you can see, there are a lot of ways to get in on the action, so to speak.  You can combine challenges and make even more money.
HealthyWage corporate events
Companies that are interested in kick-starting new or existing wellness programs should definitely check out HealthyWage and see how they can help.  This is a completely risk-free plan to offer, and companies have a lot to benefit from implementing a program like HealthyWage.
HealthyWage corporate programs are a great way to build employee morale as well as reduce sick days and decrease healthcare costs.  It really is a win-win.
HealthyWage weigh-ins
How is weight loss measured? The process for verifying your weight is included in the instructions when you sign up.  HealthyWage makes it easy to verify your weight.  You can use the app, which is available on Android and iOS, or you can shoot your own video, either way, is simple.
Earn additional money with HealthyWage
You can increase your prize by referring other people to sign up, $40 for each friend you refer. You can share your referral link with people, and they can sign up. You will get paid if you win your challenge.
How does HealthyWage make money?
It's pretty simple, HealthyWage makes money from corporate and government entities who want to offer a creative way for employees to lose weight.  Also, remember the bets we discussed earlier?  Well not everyone is successful in their weight loss journey, so sometimes people lose their bet :(. Honestly, this is a very simple and straightforward model.
How does HealthWage pay you?
HealthyWage offers two ways to pay you, through PayPal, or via paper check.  There are some processing fees involved, but getting paid is easy.
HealthyWage success stories
There are a lot of people who have had success on the HealthyWage program, check out some of the images below.
Who is HealthyWage for?
As I mentioned earlier, there is actually science to back up incentive-based weight loss.  If you have your own money on the line, you are more invested and likely to lose the weight.  Maybe you just need a kick in the pants to get started, or you have a group of friends who are interested in joining you.
HealthyWage is a program that you can try individually if you want, and the ability to stack challenges and earn more money is fantastic.  Maybe you want to motivate your friends, family, or neighbors to get in the game.  You can even make more money by referring others.
Pros:
You can earn money by losing weight
By stacking multiple challenges you can earn more money
Referring other people can help increase your earnings
Money is a great motivator to lose weight
You can compete individually or as a team
If you are not interested in losing weight, you can try a Step Challenge
Cons:
If you are part of a team and people drop out, others will have to make up the difference for the total weight loss goal
No refunds (but you can buy more time to meet your goal)
You lose your money if you don't win your bet
Conclusion: Is HealthyWage a scam?
HealthyWage is definitely not a scam, and I honestly believe a lot of people can benefit from this program.  Let's face it, people struggle to lose weight, but if there is money on the line, and you have some skin in the game, you are more likely to achieve your goal.
Does everyone win?  Well of course not, at the end of the day, you still have to put in the effort to achieve your weight loss goal, but money can be an excellent motivator for a lot of people.
Whether it's a team or individual challenge, HealthyWage has given a lot of people the motivation they need to jump-start their weight loss journey.
If you are interested in more information or would like to sign up, click on the image below to learn more at HealthyWage.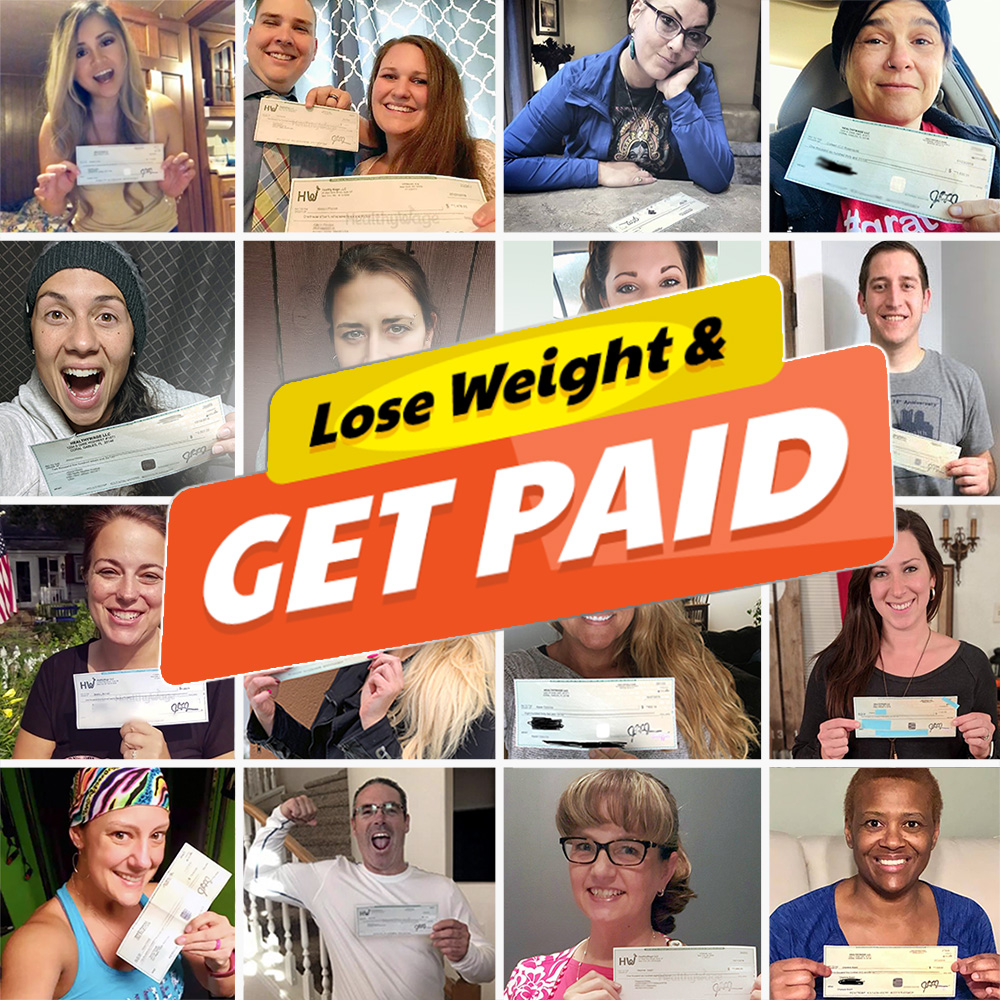 If you are looking for ways to get started losing weight, check out these other resources, here and here.
Please let me know if you have any questions or comments. I am very curious to hear what people think of HealthyWage.  Feel free to contact me directly as well.
HealthyWage
Fun -

95%

Effectiveness -

95%

Competition -

95%